How To Be a Cut Above Your Competitors
Get a FREE Copy of This Amazon Best Selling Book On Plastic Surgery Marketing and Learn To Take Control Of Your Business and Your Future
How To Get Ahead With Your Practice
If your practise:
isn't as busy as it should be
if your phone isn't ringing enough or not at all
if you're losing too much business to your competitors
if you get too many tire-kickers in your office
if you don't enjoy selling, or if you simply want more
then it will pay to read this book.
Nick Dumitru has been helping practices surpass their competition for well over a decade. And his advice starts with one simple concept. Growing a practice is formulaic. It's simple and works every time – provided you have a proven plastic surgery marketing formula. This book is about that proven practice growth formula.
If you're a doctor or practice manager, this book is yours for free. Read below for more details.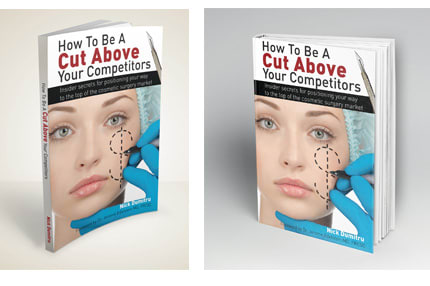 "This book is a breath of fresh air tackling a challenging topic – how to position a high performing aesthetic surgical practice.
Sadly, the majority of healthcare marketing tomes are filled with detritus of marketing psychobabble. This is NOT one of those books. What you WILL find in this book is a thoughtful analysis of how one's practice can and should be defined; and concrete, actionable steps to deliver this message to the public. High performing practices need to viscerally understand their competitive advantage. This story then needs to be told to the world. Those who ignore the online world as a major platform for telling this narrative do so at their peril.
Nick, thanks for sharing your insights."
Are you a plastic surgeon or practice manager?
You can request a copy of How To Be A Cut Above Your Competitors for FREE. Simply fill in the form to have a copy shipped to you and start overtaking your competitors today.
---
"When I first brought Nick in to work with my practice, I was doing okay but consultations were on a downward trend and I was spending time with people that needed convincing. Once his marketing machine kicked in, it all changed. My waiting list is five to six months long and I'm seeing the kinds of patients I want to see. My consultations are more about going over patient concerns than trying to convince them that I'm the right surgeon to go with. Many of the patients that "shop" five or six surgeons are gone."
var zufvq8k0ua2w9w;(function(d, t) {
var s = d.createElement(t), options = {
'userName':'thinkbasis',
'formHash':'zufvq8k0ua2w9w',
'autoResize':true,
'height':'942′,
'async':true,
'host':'wufoo.com',
'header':'show',
'ssl':true};
s.src = ('https:' == d.location.protocol ? 'https://' : 'http://') + 'www.wufoo.com/scripts/embed/form.js';
s.onload = s.onreadystatechange = function() {
var rs = this.readyState; if (rs) if (rs != 'complete') if (rs != 'loaded') return;
try { zufvq8k0ua2w9w = new WufooForm();zufvq8k0ua2w9w.initialize(options);zufvq8k0ua2w9w.display(); } catch (e) {}};
var scr = d.getElementsByTagName(t)[0], par = scr.parentNode; par.insertBefore(s, scr);
})(document, 'script');